Dunne Frankowski at Sharps
As it turns out, this is an auspicious time to begin the Rocket Cup's tour of London. Just a couple of days ago I received a quarterly sales report from the company that manufactures the cup (the parent company of Fred and Friends). I'm pleased to say that I've earned back my advance, and even managed a small profit beyond that. Achievement unlocked! Thanks, Rocket Cup owners of the world.
Clearly, an endeavour such as this one requires one important feature: a logo. With that in mind here's a first attempt, a design I've had in mind for a while.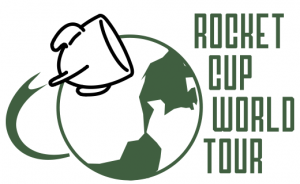 Admittedly, the tour is really of London, but given the remoteness of our temporary home relative to Canada, and the possibility that I'll travel with the cup to other spots in the UK and Europe, I'll deem it a World Tour.
Onward to our first espresso shop! Dunne Frankowski at Sharps is a collaboration: an espresso shop (Dunne Frankowski) and barbershop (Sharps) sharing a single space in Fitzrovia. Barbers and Baristas are both exceedingly friendly, and the environment is bright and welcoming. As far as London coffee goes, this shop sets itself apart by having the sexiest espresso machine in town, a Spirit Triplette.
Every time I see this shiny, low-slung machine I half expect it to take off down the street, tires screeching. It produces a hell of a shot too, under the astute guidance of the canny baristas who operate it.
I enjoy sitting at the window, looking out over the street. On one occasion, I spent some time watching a photo shoot outside, featuring a fashionable model being photographed with an equally fashionable digital camera (of course, the photographers themselves were using the more utilitarian Canon 5D).
In this first experiment in taking the Rocket Cup on tour, I discovered an ergonomic issue. Michael the barista wanted to pull the shot with the cup sitting on a digital scale. But because the cup rests on the three points of its far-flung fins, it doesn't fit comfortably on the pads of these small scales. Alas, it's style over substance for the cup in this instance.
This is one of my regular spots. It's close to my sabbatical office on the UCL campus, and even closer to the Goodge Street tube stop (my stop of choice for UCL). And of course, the espresso is delicious. I'm sure I'll be back.