During the holidays at the end of 2017, I had a bit of time to return to my occasional hobby of 3D printing. I figured I would design a couple of new espresso cups. I always seem to come back to 3D printed porcelain cups. I suppose it's a nice design space: the final form can be just about anything, as long as it fulfills one important function (holding a liquid). After waiting for the cups to be printed by Shapeways, then waiting for shipping, then waiting for an opportunity to photograph them, I can finally share them.
The first of the two cups is inspired directly by the Moka Pot, the traditional Italian stovetop espresso maker. They almost all take the form of a kind of octagonal hourglass with a spout and a handle, an iconic shape that translates readily into a cup. In this case, I turned the top half into a small espresso cup: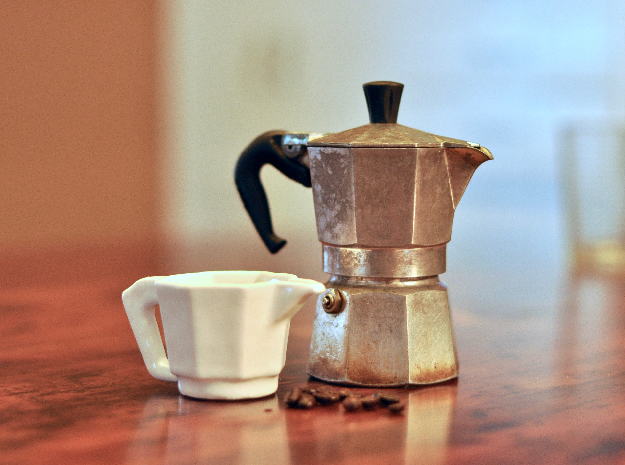 There isn't much more to say about the design—no hidden mathematical ideas or cute coding to solve design challenges. I'm reasonably happy with the design, though the flat unglazed bottom might not be to everyone's liking. If you like the cup, it's available on Shapeways, with the caveat that 3D printed porcelain can be a bit pricy.
Stay tuned for the second of the new cup designs.