Let's face it, socks have an undeserved bad reputation as holiday presents. In my family, we all enjoy giving and receiving socks around Christmas. Our collective attitude is well expressed by this old tweet (if you like, you can replace Calendar Age with Level of Sock Enlightenment):
For a few years now I've been a fan of Redbubble as a place to pick up fun laptop stickers; I've created some of my own as well. Earlier this year I noticed that they had added the ability to design custom socks. I knew immediately that I would have to create my own sock designs for my family this year. Everyone opened their gifts this morning, so now's a good time to share the results of my efforts.
GPU Socks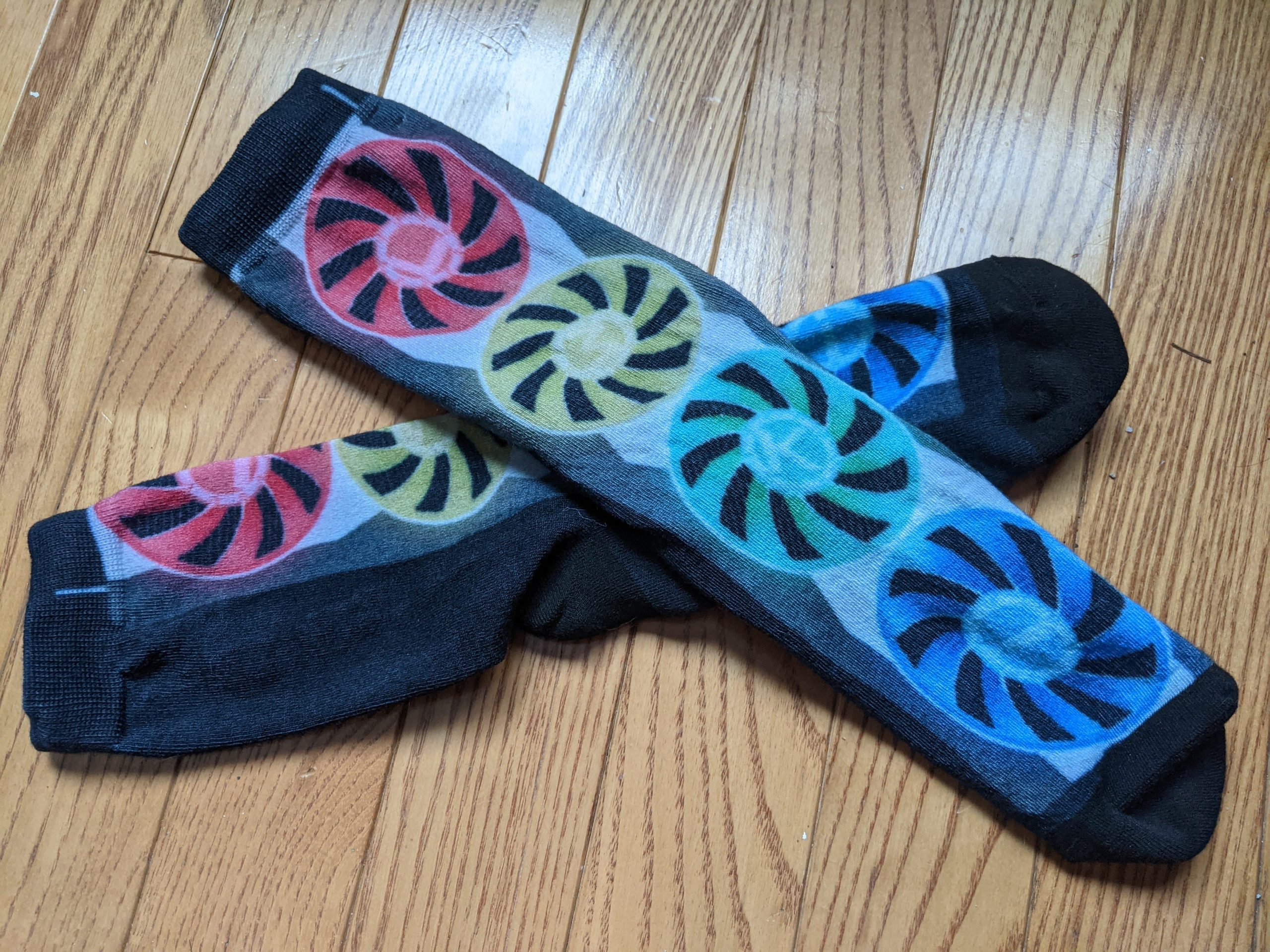 My son is saving up for a fancy gaming rig. At present he can't afford a top-of-the-line GPU, but he can have the next best thing: top-of-the-line GPU socks. The pattern on the socks is inspired by the AMD Radeon RX 6900 XT, with two exceptions. First, the Radeon has only three fans, but I added a fourth to take up the length of the sock. Second, I added coloured glows because everyone knows that your gaming rig should be filled with gratuitous lighting effects.
Cat Archetype Socks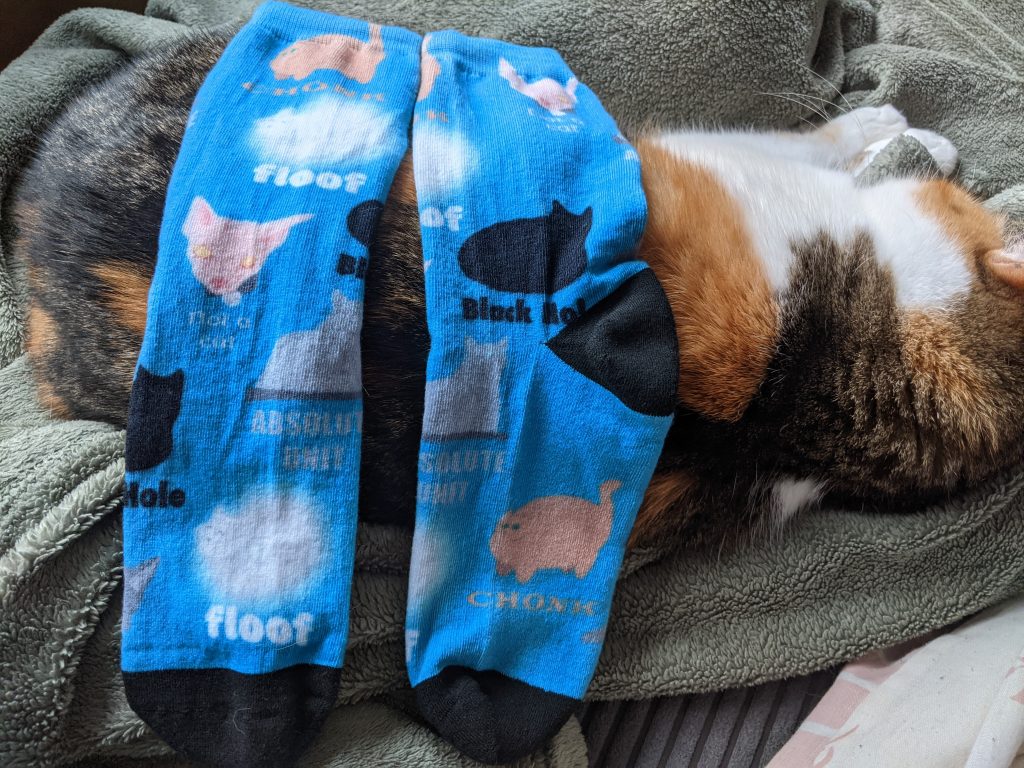 My daughter is a connoisseur of cats, memes, and cat memes. In her honour I created socks that depict the most important cat archetypes. They're a bit hard to see in the photo above; here's a field guide.

The archetypes are a mixture of doodles, traced photographs, and drawings loosely based on real cats (the smol on the right is our cat Pandora when she was about eight weeks old).
Sock Socks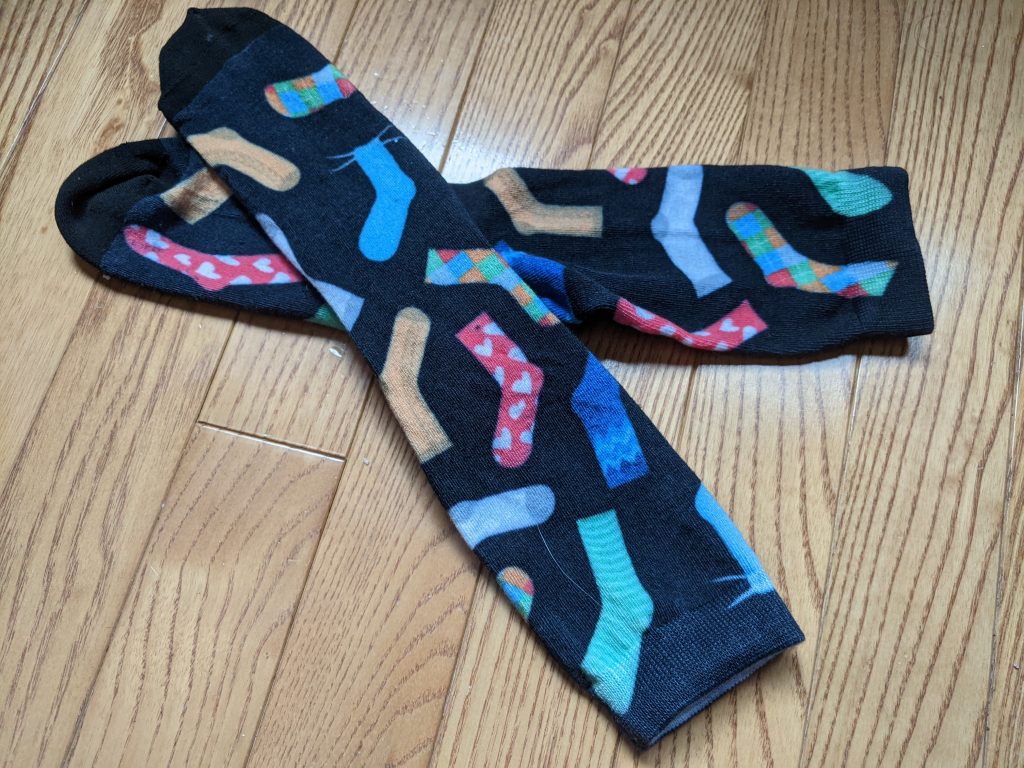 My wife is the real sock expert, a talented knitter who has made many pairs of socks for family and friends. It seemed natural, then, that she should receive socks with a pattern of socks on them. Most of the socks are in styles that one might knit (though there's a gym sock in there too), and you'll see that one sock is still on the needles.
These socks were created based on the tastes of my family members, and this post is certainly not intended as an ad, but if you happen to want a pair you can buy them directly from Redbubble by visiting my shop. Happy holidays!